Rezidence Vyšehrad - Apartments
Name of hotel:

Rezidence Vyšehrad

Category:

****

Rooms:

The living units and common facilities offer a high standard of living with beautiful views of Prague and the Prague castle. All interiors are equipped with elegant, fashionable furniture designed with a high respect for classic, quality materials. The building consists of a five-storied pavilion A and a four-storied pavilion B. Both pavilions are connected by a lobby, where you can find reception, general public rooms and commercial and wellness premises.

Business suite – Spacious studio for 2 offering high degree of comfort and luxury. All apartments have a balcony or terrace.

Executive suite – with 1 separate bedroom. This spacious suite includes bedroom and living room with a kitchenette. Almost all flats have a balcony or terrace.

Executive De Luxe suite - Spacious and comfortable apartments of about 60 m with higher standard of equipment. All apartments have a balcony or terrace.

All types of apartments provide fully equipped kitchen including microwave and refrigerator, (Executive De Luxe suites include also oven, espresso machine, dishwasher and washing machine), telephone, Internet connections, a satellite LCD television with a wide selection of channels, and a DVD player. Apartments also feature a safe and a hairdryer.

Services:

Fitness, sauna, and lounge facilities. Caffé FRESCO, Thai massage center, 24-hour reception and security services, indoor parking.

Location:

Rezidence Vyšehrad is ideally located opposite the Prague Congress Centre, 3 minutes walk from the metro station (line C), close to the vast park Vyšehrad.

Hotel address:

Lumirova 1715/33, Prague 4

How to get to PCC:

Apartments are located within walking distance of the Prague Congress Centre (2 minutes).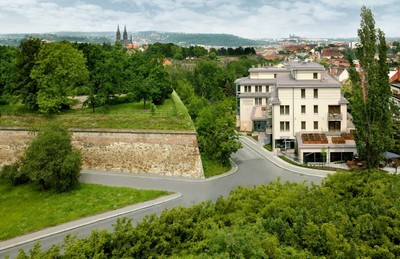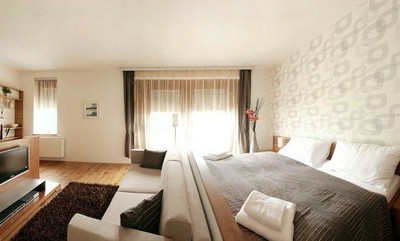 Document Actions